4:30 - 7:30, march 6 through june 4, 2017
monday and wednesday or tuesday and thursday
what is rocking the boat?
Rocking the Boat is a youth development program in the South Bronx that offers teenagers the opportunity to become boatbuilders, sailors, and environmental scientists. Participants explore the natural environment of the Bronx River, contribute to its restoration, and increase community access to it. They also go on trips to explore other areas in or near the city. Through Rocking the Boat, participants develop valuable skills, have fun, gain self-confidence, and become part of an exceptionally strong community of students, apprentices, alumni, and staff.

Rocking the Boat recruits 9th and 10th graders for its programs. You don't need any prior knowledge or experience to apply, just an openness to learn! During the school year Rocking the Boat staff will work with participants' schools to obtain academic credit for participation.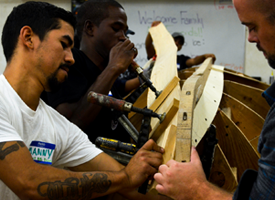 Students work in a professional-grade wooden boatbuilding shop to build and restore traditional wooden boats.
Students learn a wide range of maritime skills, including rowing, and implement real environmental restoration projects that are revitalizing the Bronx River.
Students learn how to rig, sail, and eventually instruct other students in sailing and navigation in traditional wooden boats and fiberglass racing boats.