Participants may arrive at Rocking the Boat not knowing how to read a ruler and having never used tools, but they work together to build full size traditional wooden rowing and sailing boats from scratch. Boatbuilding students and apprentices study the plans and create and assemble all of the components from stem to stern, fasten the planks and frames, paint, and then launch their boat into the Bronx River.

Rocking the Boat purposely chooses boat designs that have historically been built and used by New Yorkers as a way of connecting participants to the City's maritime past.
whitehall
Throughout the 2016-2017 school year, a group of 16 Boatbuilding students are working to construct a 17-foot Whitehall, the classic rowboat design that comprises the majority of Rocking the Boat's fleet, and the organization's 50th student-built boat.
oars
Students fashion four ash oars for every Rocking the Boat boat. They use block planes and spoke shaves to remove layer after layer of wood, taking a four-sided block down to an octagonal shaft then to a hexadecagon (16-sided polygon) and ultimately to a smooth rounded column with a ½ inch thick blade at one end and a leathered grip on the other.
half models
Students are introduced to the intricacies of boat design and construction by building Whitehall half models during the summer. The practical application of their models comes in the fall when they start lofting the next full-scale boat.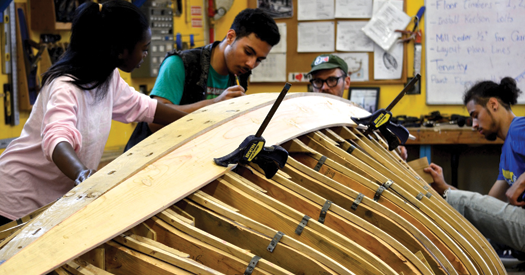 herreshoff 12 1/2
The current long-term project is the construction of a Herreshoff 12½ replica, a classic wooden sailboat that will be used to support the organization's burgeoning Sailing Program. So far, apprentices have created a table of offsets, made the 22 molds that form the shape of the hull during the construction process, steambent 44 ribs into place, and fabricated 22 floor timbers, the transom, and started planking. The highlight of the project will be pouring the boat's 735-pound lead keel. The Herreshoff will be launched in 2017.
little juliana steamboat
Apprentices spent 2015 building a 25-foot steamboat, a faithful replica of the 1804 Little Juliana designed by Colonel John Stevens. The completed hull was transported to the campus of the Stevens Institute of Technology in Hoboken, NJ, where it was united with the 1,500-pound engine—a reproduction of the original (now housed in the Smithsonian)—carefully crafted by Stevens naval engineering students.
I first joined Rocking the Boat because being able to build boats is really different from a regular afterschool program where all you do is homework. I got to do something out of the ordinary. Now when I'm in the shop I feel likeI can let out that inner woman who wants to build. That's where my passion for carpentry shows--working the wood, figuring out how the grain goes together, that's what I need.
Rocking the Boat is grateful to the following partners who allow the Boatbuilding Program to be such a powerful experience for our students and Apprentices:
Herreshoff Marine Museum
Independence Seaport Museum
International Yacht Restoration School
Landing School of Boat Building and Design
Mystic Seaport
Non-Traditional Employment for Women
Portside New York
RE-CO Brooklyn
South Street Seaport Museum
Stevens Institute of Technology
Teaching with Small Boats Alliance
WoodenBoat Magazine