july 5 through august 18, 10:00am-3:00pm, monday-thursday
includes a four-day, three-night mid-summer expedition
$700 stipend for full participation
for current and rising 9th and 10th graders
812 edgewater road, bronx, ny 10474
what is rocking the boat?
Rocking the Boat is a youth development program in the South Bronx that offers teenagers the opportunity to become boatbuilders, sailors, and environmental scientists. Participants explore the natural environment of the Bronx River, contribute to its restoration, and increase community access to it. They also go on trips to explore other areas in or near the city. Through Rocking the Boat, participants develop valuable skills, have fun, gain self-confidence, and become part of an exceptionally strong community of students, apprentices, alumni, and staff.

Rocking the Boat recruits 9th and 10th graders for its programs. You don't need any prior knowledge or experience to apply, just an openness to learn!
Students are expected to commit to the full summer session—July 5 through August 18.
Rocking the Boat has a strict set of COVID-19 safety protocols that all staff and participants must follow. All participants must be fully vaccinated. We will continue to follow guidelines from the CDC and local public health protocols and adjust our programming and safety measures as needed.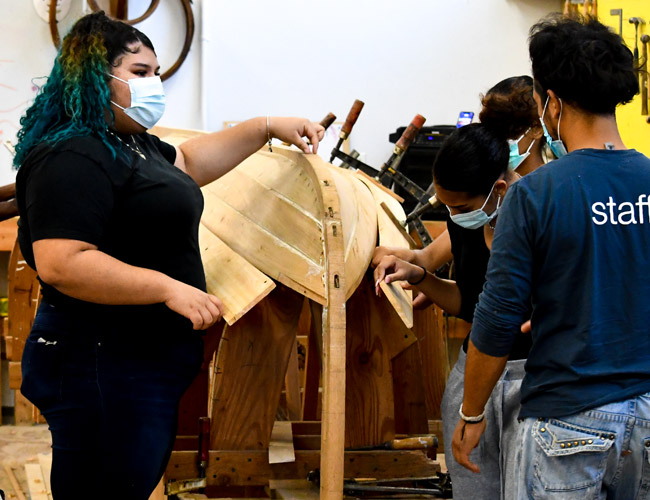 Build wooden boats from scratch, learn how to read boat plans, and use shop tools to create something that really works. No prior carpentry experience needed.
Become a Bronx River caretaker, learn to navigate and row boats built by your peers, monitor the ecological health of the river, and work to restore its natural habitats.
Learn to sail on the Bronx and East Rivers, including how to navigate, rig boats, and use sails and the wind to get where you want to go.
benefits
Learn practical skills in boatbuilding, sailing or environmental science.

Build a community of peers and mentors who want to help you succeed in your personal and academic goals.

Be supported by a team of licensed Social Workers. Support includes individual counseling, referrals to outside services, advocacy at school and at home, workshops and discussion groups, professional development, and college and career guidance.

During the summer semester, participants are paid a modest stipend.

Receive a full set of personal protective equipment (PPE).
we are no longer accepting applications for summer 2022
directions
Take 6 train to Hunts Point Avenue, walk south on Hunts Point Ave (crossing under the Bruckner Expressway overpass) until you reach Lafayette Ave. Make left turn at Lafayette Ave and walk all the way down the steep hill to Edgewater Road. Cross Edgewater Road and train tracks and make a sharp left on the sidewalk alongside a warehouse. Rocking the Boat is the first entrance on the right.
This program is supported, in part, by public funds from the New York City Department of Cultural Affairs in partnership with the City Council.