This is the announcement that Rocking the Boat has been itching to make: we're open again! Participants were greeted with a number of changes they expected, such as mask requirements (KN95s are provided by the program), temperature checks, hand washing mandates, and rules about how far apart they need to stay from each other, but also a few that they didn't. The place that many Rocking the Boaters consider a home away from home got a $1.1 million makeover while they were away.

Three major construction projects had just begun last February, shortly before the pandemic ground New York City to a screeching halt. As many as 15 workers per day were on-site installing new water, sewer, and sprinkler lines; insulating the building envelope; and replacing an old, leaking roof with a new, fully insulated one. The mess and disruption these capital projects created would have been a logistical Mt. Everest if boatbuilding and sailing and the rest were happening on-site, but of course they weren't. Students did not need to skirt the large hole in the concrete floor where the new water and sewer service were to enter, and apprentices did not need to avoid the pallets of masonry piled in the backyard for a new parapet wall.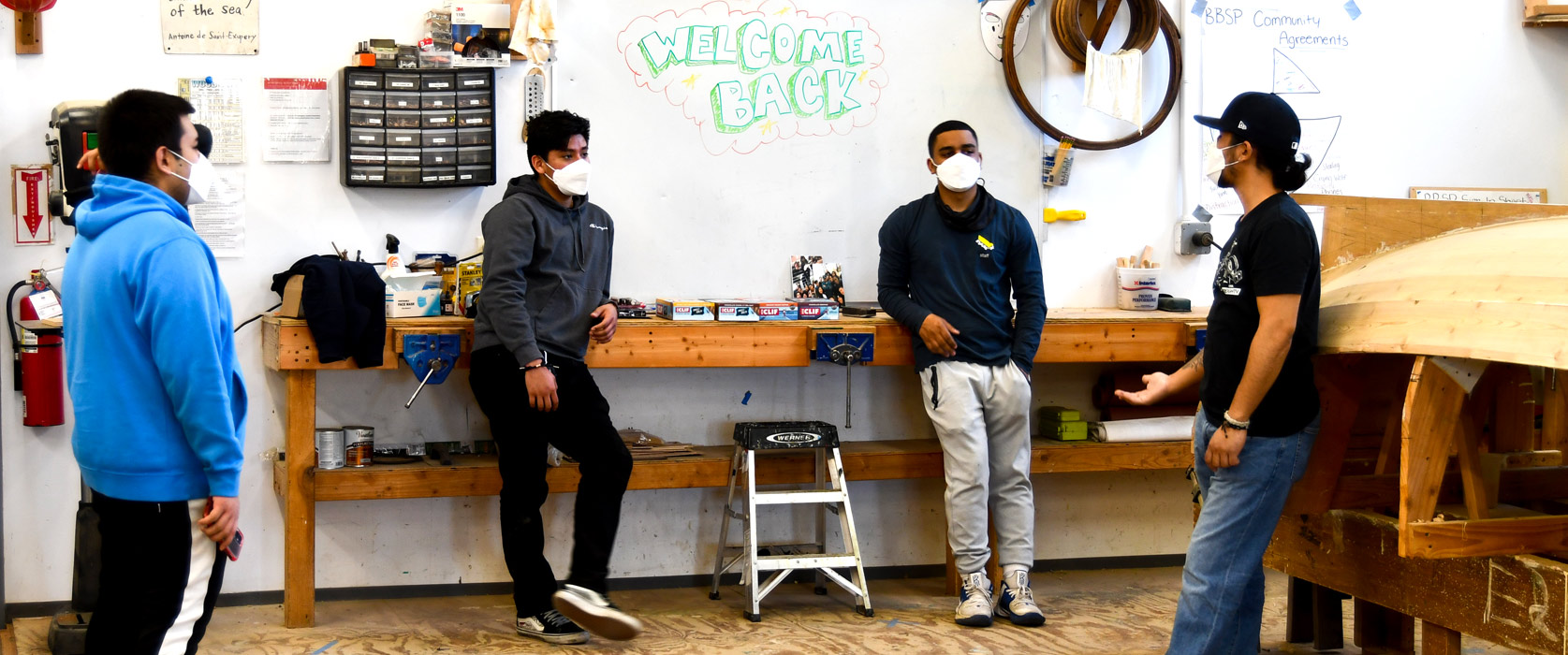 The improvements being essentially invisible once they were done, returning participants might not even have noticed the large-scale changes if it were not for the icing on the cake. Since the building's signature swoop and logo signage had to be removed to install a new, insulated front facade, Rocking the Boat's Communications Director, Joaquin Cotten, had a blank, newly finished cerulean blue slate to work with for a refresh. His vision started with a bold, illuminated sign filling the side to the left of the storefront, and will be completed later this spring once Environmental Job Skills apprentices load new wooden planter boxes with a colorful display of native pollinators.
coming soon, a pollinator garden
Environmental Job Skills apprentices are currently growing Wild Bergamot, Echinacea, and Sneezeweed from seed. All three varieties are native and attract a variety of pollinators. The most famous and famously at-risk pollinators are, of course, bees. Program Director Kris Mielenhausen recently asked his apprentices how many different bee species they thought had been identified in New York City. The answers offered varied from two to 16, but the correct answer is over 200! Some participants challenged this figure, thinking it was too high, until the group began to reflect on the Bronx River's reputation. The South Bronx is often written off as a place devoid of nature, but Rocking the Boat participants well know that the Bronx River is teeming with life despite decades of pollution and habitat loss. A pollinator garden greeting visitors as they enter Rocking the Boat's building is the perfect symbol of their environmental work.
Rocking the Boat will forever be grateful to the two Bronx officeholders who championed capital funding requests to the City—Hunts Point City Councilmember Rafael Salamanca and Bronx Borough President Ruben Diaz, Jr.—and to the following individual, corporate, and foundation sponsors: Joseph Robillard, The Barker Welfare Foundation, McInnis Cement, Mary Alice Fortin Foundation, Geis Construction, Oak Point Property, LLC, and Hyde & Watson Foundation. And a huge hats off to project manager Chris McAninch of LOM Property Consulting, Charles Lauster Architect, and general contractor Jennings Co., Inc. Please share our pride in Rocking the Boat's energy efficient and sustainable home, an investment for the long term.