"An awful first semester at school is normal!"
That's part of the message former Rocking the Boat boatbuilder and current Marist College sophomore Harumi wanted to impart to high school juniors visiting her school last month. And she has more to share, which is why when Rocking the Boat's Social Work team—Alumni Coordinator Ricardo Almonte and Student Social Worker Angela Fronda, led by Senior Director Xiomara (Xio) Ayala—started planning its annual four-day tour of six upstate colleges, they picked Harumi and another alumnus, sailor/Syracuse University sophomore Hamilton to serve as personal campus tour guides. With the experience of choosing their schools and adjusting to college life still fresh, Hamilton and Harumi had a great deal of perspective to communicate to the 12 juniors who attended the trip this February.
Harumi, for example, clearly remembers the overwhelm that came with sorting through the heaps of information arriving from the private and state schools she was applying to. What she needed most was the bottom-line cost and how she was going to afford it. Xio was ready with a practiced eye and a list of scholarship opportunities. Rocking the Boat awarded her $20,000 over four years via a New York Community Trust scholarship program. Xio kept tabs on Harumi during those first few months in Poughkeepsie. Their conversations ranged from what the environment was like for a BIPOC girl from the Bronx at a PWI campus to strategies for being organized to feeling comfortable spending time alone. Knowing now that a tough start can be worked through, Harumi prepared this message for her visitors, "An awful first semester at school is normal! Don't put too much pressure on yourself, that it has to be perfect." Unfortunately, she didn't get to deliver that message in person because snowstorms caused the group to skip the Marist leg of the trip but Harumi is eager to work with Ricardo to schedule a make-up session during spring break.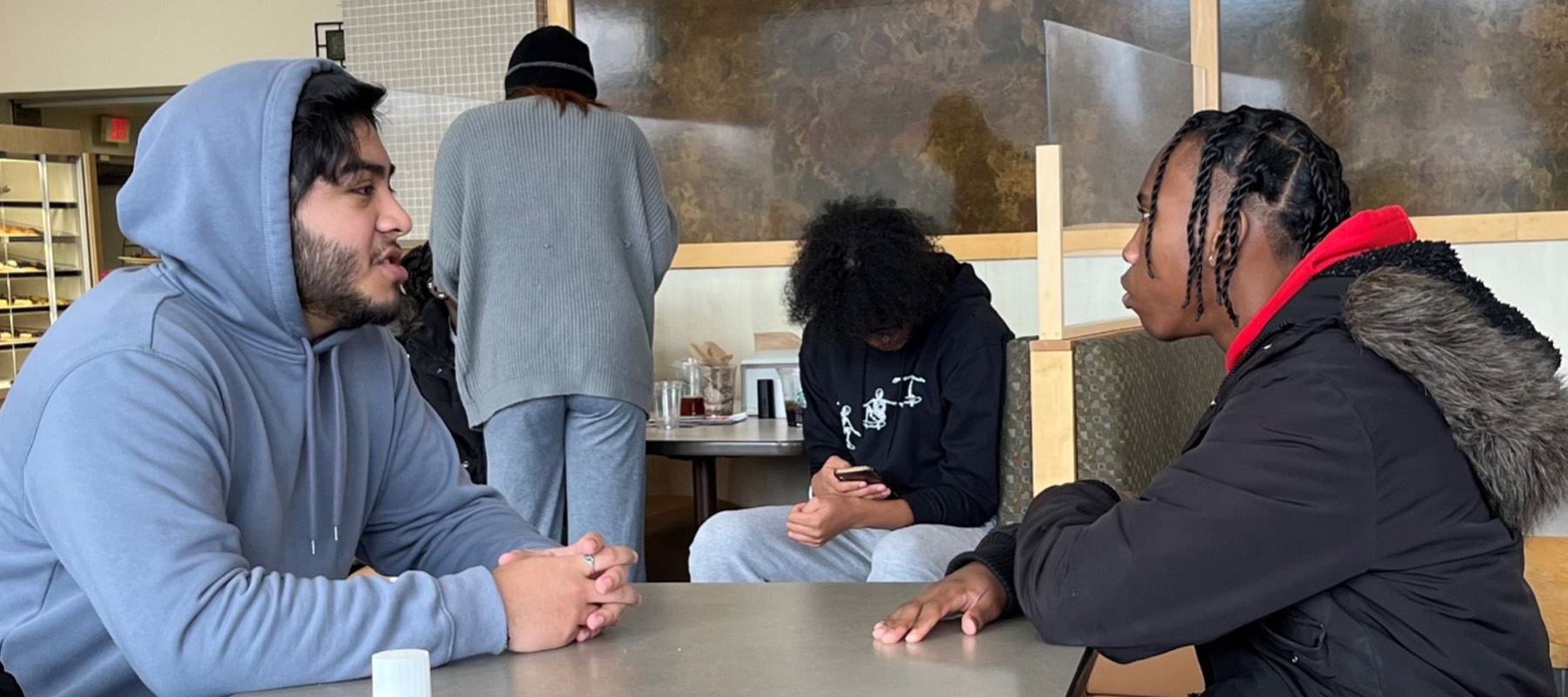 As with Harumi, finances were paramount in Hamilton's college search. When he met with the group for lunch at a Syracuse University dining hall, Hamilton surprised everyone by explaining that the college price tag is negotiable, and they should always advocate for themselves with the Financial Aid office for more assistance. To the students who asked about feeling isolated, far from home, Hamilton recommended arriving at college over the summer like he did. He was sorry to leave his home, friends, and Rocking the Boat early, but by the time fall classes started he already met some of his professors and knew his way around the 721-acre Syracuse campus, which felt like a leg up, even though he had visited the school during his own Rocking the Boat college tour in 2020 right before the pandemic shut such events down. "If a Rocking the Boat student came to school here, I would tell them it doesn't really feel that big. Or I'd encourage them to think of its size as a good thing—lots of new people to meet!"
With this first campus tour experience under their belts—at Syracuse their tour ran long because of the extended grilling they gave their guide!—this group of juniors are now primed for the next stages of applying to college. From a financial aid workshop in April to a college essay tutor match up session over the summer to a comprehensive workshop in October that lays out the milestones and deadlines of senior year, Rocking the Boat will be with them every step of the way to College Decision Day and beyond.