bronx river ecology exploration: all ages
Ecology Exploration Programs engage students in local, natural phenomena for a one-of-a-kind experiential education program in the Bronx River Estuary. Programs highlight the ongoing scientific and restoration projects of Rocking the Boat and are aligned to Next Generation Science Standards. Activities can be adapted and developed for different ages, learning levels and size of group.
Ecology Explorations are 45 to 60 minutes long and are usually combined with a Bronx River Rowing Experience in student-made Whitehall rowboats for a 2- to 3-hour program.
Eastern Oyster Anatomy and Function
Students learn about taxonomy and anatomic function through a hands-on examination and dissection of this important filter-feeding mollusk. During the investigation, they will learn the local history and ecosystem functions of this critical species in the Bronx River Estuary.
On-Water Eastern Oyster Cage Inventory
The program's on-water component includes a row to the oyster cages to conduct data collection protocol, measure growth and identify companion species. This data is shared with Billion Oyster Project and included in their publicly available dataset.
Urbanization and Water Conservation
Students follow the pathways of water in the watershed through an urban landscape and into the Bronx River. They examine permeable surfaces and green infrastructure, and explore questions about the sources and pathways of river pollution, prevention and water conservation.
On-Water Row to the CSO
Students row to a Combined Sewer Overflow (CSO) discharge site on the Bronx River. During their trip, students learn about the overflow system, its impact on the river and behaviors that could reduce overflow events.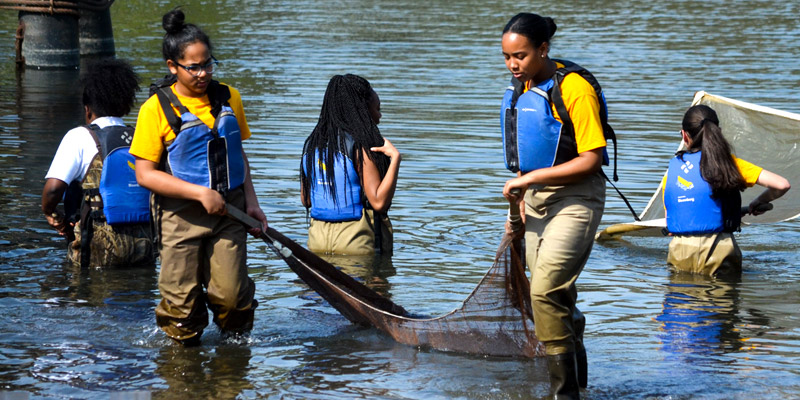 Fishing with Waders and Nets
Students wade along the shore of the Bronx River with seine and dip nets to collect fish and other aquatic organisms. They examine specimens up close, identify them using a dichotomous key and learn about their behavior and connections to the Bronx River ecosystem.
Bird Identification and Adaptation
Students practice birding basics through on-water or on-shore observations of the birds of the Bronx River Estuary. In the classroom, they explore adaptations of some commonly spotted species. Students discuss the importance of birds within an estuary and what indicator species can tell us about the health of the river.
Water Quality Testing and Monitoring
Students perform water quality indicator tests from Bronx River water samples and explore questions about river health, safety and sources of pollution. Students learn data collection and reporting protocols used by Rocking the Boat and how collected data is used to protect river health.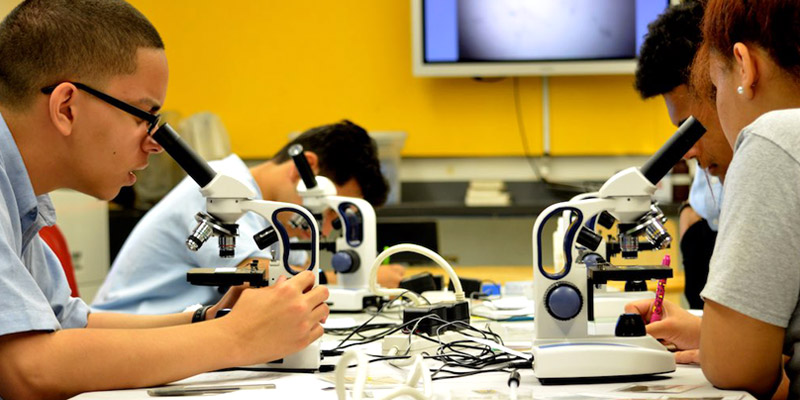 Plankton and the Aquatic Food Chain
Students explore the aquatic food chain through an up-close look at microscopic organisms. Students use specialized plankton nets to collect samples from the Bronx River and use microscopes and keys to identify specimens.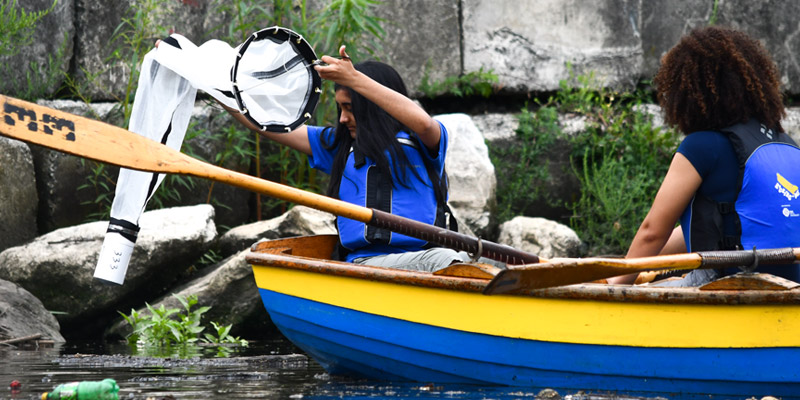 Marine Debris and Microplastics
temporarily unavailable
Students discover the environmental impact of marine debris and witness the imbalance that exists between litter and local wildlife. Students will explore decomposition time of common marine debris and take part in collecting and analyzing trash along the estuary shoreline. In the lab, students will observe the breakdown process of common plastics and learn how marine microplastic is sampled and identified.
On-Water Marine Debris Boom Inventory
The on-water extension of this lesson is a row to the local trash boom to observe the litter flowing down the river and learn how it is collected and processed.